Administration Team
The Police Administration Team
The administration is the leadership of the organization. Each member of the administration is first charged with developing organizational goals and objectives designed to achieve the department's mission. Performed annually, each member is responsible for implementing an action plan, which consists of resource allocation, budgeting, follow up, and follow through using administrative tools to manage and direct the overall activities of the Department. Click the photographs for bios and contact information.
Commander Dovale manages the Professional Compliance division of the police department, which encompasses internal affairs investigations, audits, response to resistance reviews, citywide internal investigations and policy and procedures review and compliance among other administrative duties. Commander Dovale also manages the Criminal Investigations Division which includes detectives and the Special Investigations Unit. In addition he is responsible for overseeing Property and Evidence, Crime Scene and the Victim Advocate.
Commander Dovale joined the Cocoa Police Department in 1997 as a patrol officer after receiving his certification in criminal justice from Mid Florida Technical College in 1995. Commander Dovale served in various positions including K-9 officer, detective and criminal investigations. Among his more noteworthy accomplishments, Commander Dovale was awarded the department's Combat Cross for his role in stopping an active shooter who barricaded himself in his home on Hightower Street in 2000. The suspect fired several rounds at officers before he was wounded and subsequently arrested. More recently during his duties as a patrol sergeant, Commander Dovale assisted with the rescue of three pit bulls trapped in a storm drain. The rescue captured international attention and earned the department a "Compassionate Police Department" award from PETA (People for the Ethical Treatment of Animals) Commander Dovale says he hopes to continue and improve the mission of the Professional Compliance division by raising the level of transparency and accountability by which it functions.
Lieutenant Bobay joined the Cocoa Police Department in 1994. He was promoted to his current assignment as a lieutenant in 2009. His command staff duties currently encompass the two midnight shifts, the V-Cop program, Reserve Police Officers program, Booking Operations, Natural Disaster Planning and currently he is the Infectious Disease Control Officer. During his tenure with the police department Lieutenant Bobay has been responsible for, Internal Affairs, Policy Development, Grant Management, Marine Unit, Community Resource Unit, School Resource Officers, Special Events and Details, SWAT, Crisis Negotiations Team, Honor Guard and the K-9 unit to name a few. Lieutenant Bobay spent many years as an investigator and an investigative supervisor handling the agencies high profile crimes. Lieutenant Bobay attained his B.S. degree from the University of Central Florida in 1993. Lieutenant Bobay also attended the University of Louisville, Southern Police Institute Command Officer Development Course in 2010. Lieutenant Bobay is originally from Florida and he has been in Central Florida since 1972.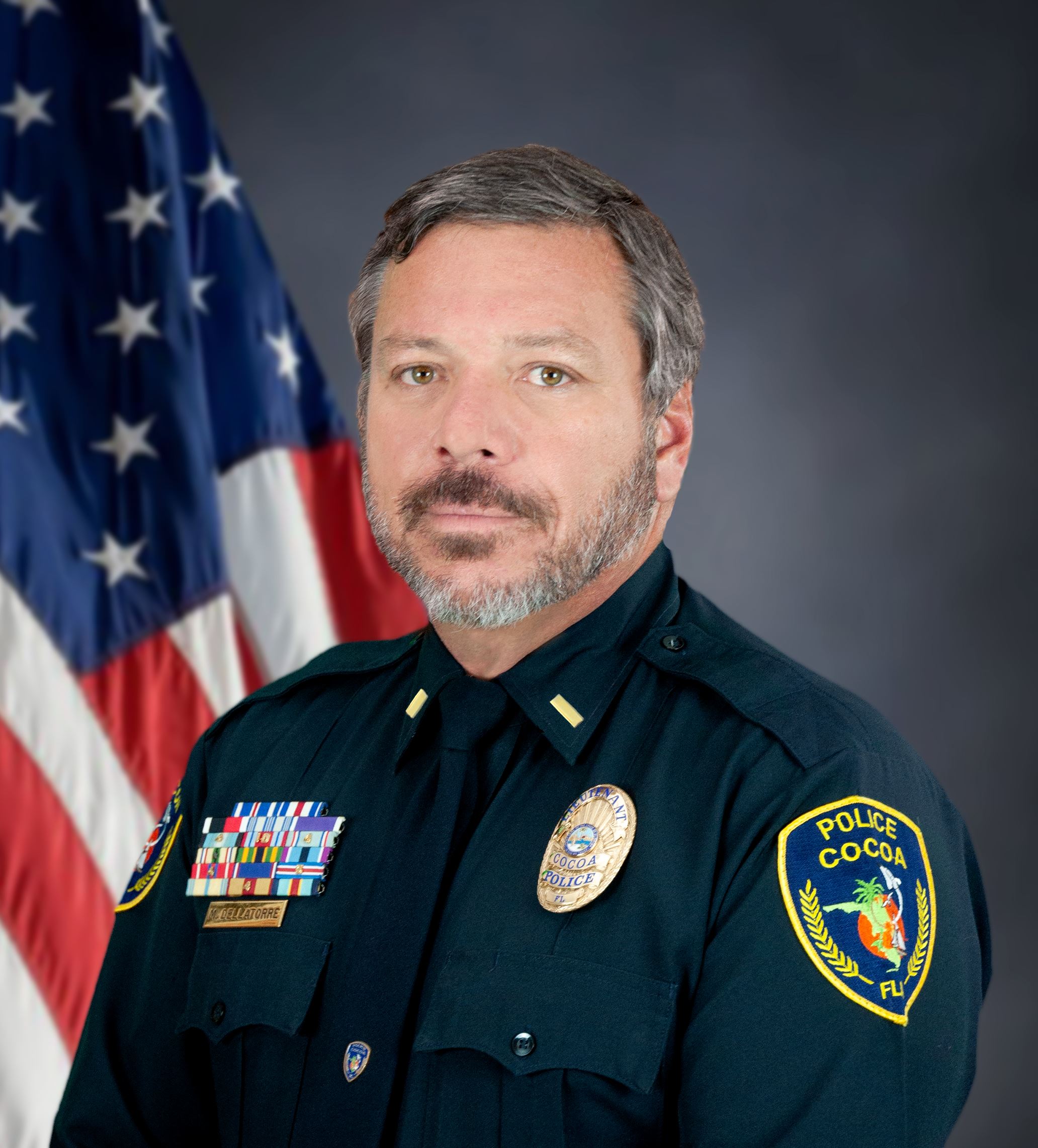 Bio info is being updated.
Lieutenant Marchica joined the Cocoa Police Department in 2002. He began his service as a patrol officer and quickly rose through the ranks to serve in a variety of areas including SWAT, K9, field training, line supervision, and supervision of the former Street Crimes Unit. He took on leadership roles in SWAT, K9 and is currently commander of both units. Lt. Marchica also oversees the Crisis Negotiations Team which is another component of SWAT. This team responds to critical incidents and is trained to negotiate with suspects in order to bring a peaceful resolution to these incidents.
Lt. Marchica is considered a subject matter expert the execution of high risk warrants, special enforcement operations and planning, firearms, high liability and active shooter incidents. He is also a certified instructor in these areas.
Lt. Marchica holds a bachelor's degree in public administration from Barry University. He graduated from what was then known as the Brevard Community College Criminal Justice Academy where he earned his law enforcement certification and credentials.
Lieutenant Jeremy Ondo joined the Cocoa Police Department in September of 1998. During his tenure he served in several positions within the department to include; Patrol Officer, Field Training Officer, Training Officer, Vice Agent, Detective, SWAT Operator / Sniper / Team Leader, Patrol Sergeant, SIU Sergeant, and current assignment as a Patrol Lieutenant. Current duties include; watch commander for an evening and midnight shift, Natural Disaster Planning / COOP, Infectious Disease Control Officer, Special Events / Details, Booking, and District Three Liaison.
Lieutenant Ondo moved to the Cocoa area in 1986 and attended Clearlake Middle School. He graduated from Cocoa High School. He then attained his associate degree from what was then Brevard Community College. He later earned a bachelor's degree in criminal justice from the University of Central Florida. He attained his Law Enforcement certification from then Brevard Community College in 1996. He also attained a State Fire certification from Mid Florida Tech in 1997, followed by National Registered EMT certification.
Lieutenant Ondo looks forward to serving the community by honoring the traditions of law enforcement while embracing the changes that modern technology brings and society demands and deserves.
Contact:
Office: 321-637-6409