Streets Division
Mission
Streets and signs and signals: maintain the city's street inventory, perform roadway construction and resurfacing, milling, and patching; sidewalk repair and construction; street sign inventory, fabrication, repair, and installation; and street light and traffic control signal repair and maintenance. The city maintains fourteen signalized intersections and an inventory of over 6,000 signs.
The street and signal responsibility encompasses over seventy (70) miles of city-owned paved and unpaved roadways, rights-of-way, sidewalks (concrete and brick pavers), parking lots, curbs and gutters. City-owned light systems are maintained in Broadview Manor, Cocoa Village, and Cocoa Village parking lot. Streets and rights-of-way are significant valued city owned assets with a replacement cost in excess of $65,000,000. It is imperative, for the future of Cocoa, these assets be maintained and improved with vigilance.
Non-Routine Maintenance Accomplishments
Milled and paved Forrest Avenue, Fairway Drive, Myrtle Lane, and Japonica Lane; a total of 1.65 miles
Partnered with the City of Rockledge to mill and pave .63 miles on Rosa L. Jones Drive
Work is in progress to install a new turn lane on N. Fiske Boulevard from Ohio Street to State Road 520
Installed over six hundred (600) feet of new curb and gutter on Rosa L. Jones Drive
Streets Department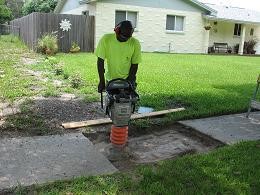 The Public Works Streets Division repairs, replaces, and installs new sidewalks within the City of Cocoa.
Signs Division
The Public Works Signs Division repairs, replaces, and installs all of the city's street signs.
The City of Cocoa has adopted a Roadside Memorial Marker Program, if you're interested in having a marker on City road in memory of your loved on, please complete the
Roadside Memorial Marker Application
.
Request Tracker Form
If you have a complaint, concern or see something that needs to be fixed in the municipality of Cocoa, please complete the
Request Tracker Form
, someone will get back with you. Should something need immediate attention that is hazardous please call 911. Also, you can call the Public Works Department at (321) 433-8770 to report problems, concerns or repairs. For street light outages please call FPL at (321) 723-7795 or fill out an
online form
directly with FPL.
This form can be used for such things as pot holes, traffic signals, street signs, trash, and Trees obstructing right of ways, etc.