Home Water Use Survey
How much water does your family use?
Find out how much water your family actually uses. Take the water consumption figure found on your water bill and divide it by the number of days in the billing cycle. This is your daily water consumption. Cocoa bills per 1,000 gallons, so you need to multiply your answer by 1,000 to get the actual gallons used. Then divide the daily consumption by the number of people living in your home and compare it with the following:
| | | |
| --- | --- | --- |
| Winter | Summer | Rank |
| 50 to 65 | 65 to 80 | Efficient |
| 70 | 91 | Average |
| Exceeds 70 | Exceeds 100 | Inefficient |
Complete the home water use survey and receive an EcoKit™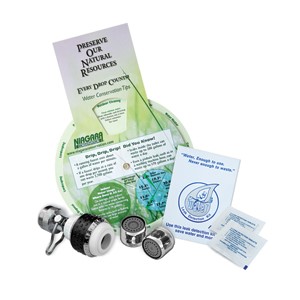 If you live in a home built before 1994, there's a good chance that you have some water wasting fixtures in your home. Completing a home water use survey will help you see where you use the most water. This will help you determine where you can make changes to save water and money. Download a copy of
Cocoa's Home Water Use Survey
. Once you complete a Home Water Use Survey call the Conservation Office at 321-433-8705 or
email the Conservation Office
and Cocoa Utilities will provide you with an EcoKit™ that includes helpful, everyday tips for water and energy conservation. The EcoKit™ also includes a 1.5 gallon per minute (gpm) dual-spray kitchen swivel aerator, two (2) 1.0 gpm bathroom aerators, leak detection tablets, and a water conservation wheel. These kits are proven effective in reducing water consumption.
Trade in your high consumption shower head
If you have high consumption shower head (manufactured before 1994) you can exchange it for a new, 1.5 gallon per minute (gpm), massage showerhead. The Earth showerhead saves money by using up to 40% less water than traditional "low-flow" showerheads. The patented pressure compensating technology guarantees a powerful, consistent flow rate regardless of available water pressure. The Earth showerhead features a 9-jet adjustable turbo massage that easily rotates from a gentle needle spray to a forceful jet.
Shower Heads manufactured before 1994 can use up to 5 gpm of water. Showerheads manufactured after 1994 use 2.5 gpm or less. Using one of our new low-flow showerheads allows you to enjoy your shower, while saving water!
The Showerhead Exchange Program is an ongoing year-round conservation program. You may exchange your old shower head at the Conservation Office located at 351 Shearer Blvd., Cocoa. Exchanges may be made Monday through Friday, between the hours of 9 a.m. and 4 p.m. Cocoa water customers may exchange up to two shower heads per household. Multi-family or commercial accounts, such as apartments or motels that wish to exchange more than 12 showerheads should contact the Conservation Office to confirm an adequate supply is available.
Just For Fun
Just for fun try one of these online, interactive home water use surveys. The
St. Johns River Water Management District home water use survey
.
The
Alliance for Water Efficiency Home Water Use Survey
.