Cocoa Rain Barrel Rebate Program
Cocoa Rain Barrel Rebate Program
Donald W. Downs, Conservation/Public Relations Officer • 351 Shearer Blvd. Cocoa, FL 32922 • Ph: (321) 433-8705 • Fax: (321) 433-8708 • 8:00 am - 5:00 pm • Monday - Friday
Save Water, Money and the Environment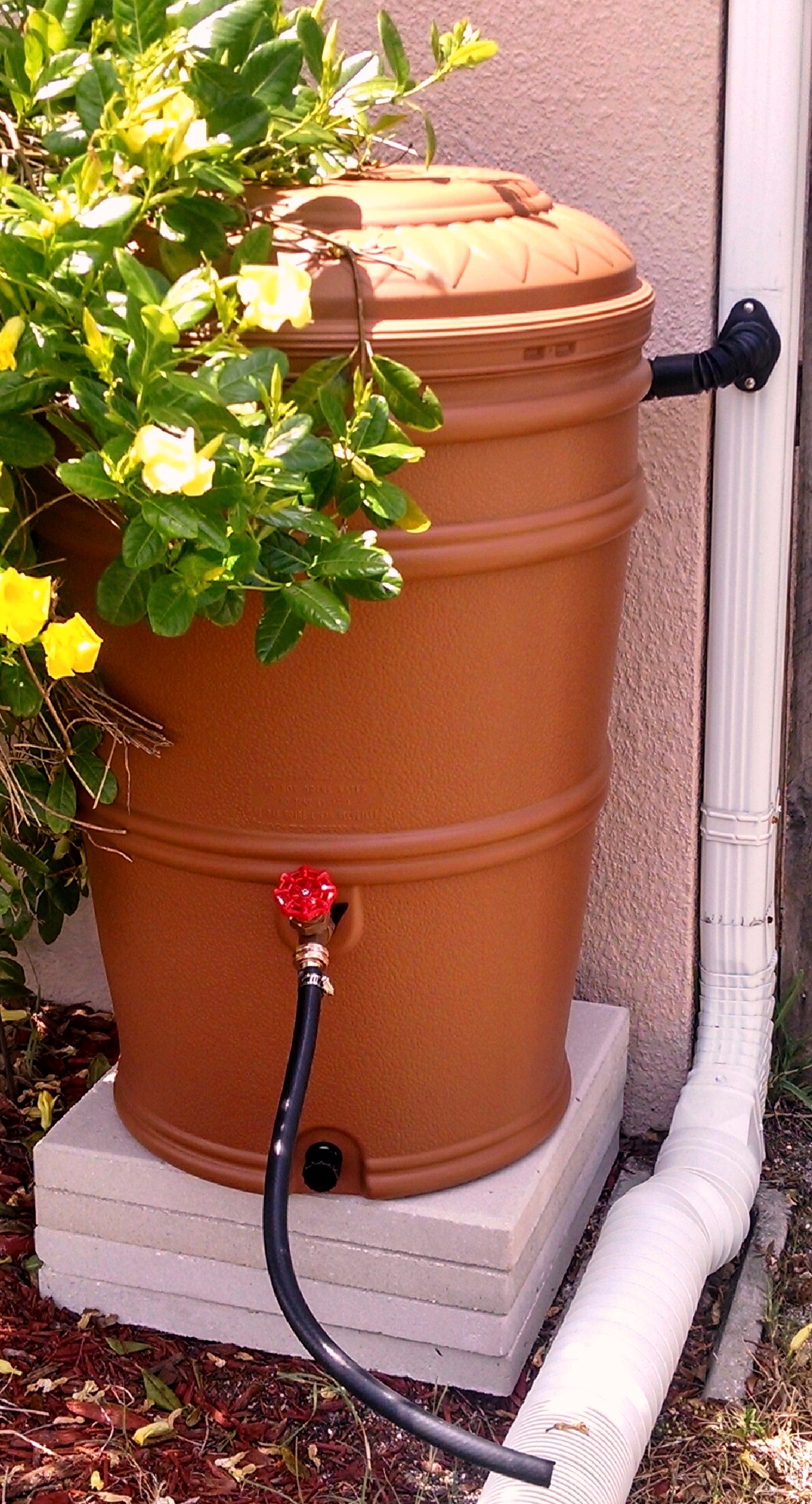 As part of Cocoa's water conservation program, the city offers an incentive to its customers to encourage them to install and use rain barrels. Rain barrels are a low-cost and effective way to collect and store rainwater from your roof or gutters to use for watering your:
Lawn Garden
Indoor Plants
Filling Birdbaths
You can purchase your rain barrel(s) from any store. A typical rain barrel design will include a hole at the top to allow for flow from a downspout, a screen grate to keep debris and insects out, a sealed lid, an overflow pipe, and a spigot at or near the bottom of the barrel. Multiple rain barrels can be connected to provide larger volumes of storage.
A rain barrel will save most homeowners about 1,300 gallons of water during the peak summer months. Saving water not only helps protect the environment, it saves you money and energy (decreased demand for treated tap water). Diverting water from storm drains also decreases the impact of runoff to streams. Therefore, a rain barrel is an easy way for you to have a consistent supply of clean, fresh water for outdoor use, FREE.
Eligibility Requirements
Rebates are available on a first-come, first-served basis and are given as a credit on your water bill. The Rain Barrel Rebate Program runs each fiscal year from October 1 through September 29 or until funds are depleted. You must purchase the rain barrel after October 1 and during the same fiscal year that the rebate is available. All paperwork must be submitted prior to the close of the program.
Applicant must have a water account in his/her name and must be a Cocoa Utilities Department customer.
The rain barrel must be installed at the property that receives a water bill from

Cocoa Utilities Dept.

A maximum of two rebates per address is allowed during the lifetime of the program. A $50.00 credit will be applied to the water account for each rain barrel installed for a maximum of two.

You must provide receipts and UPC bar codes for all items

It is the customer's responsibility to ensure proper installation. Cocoa does not recommend any brand or manufacture of rain barrel.

Upon inspection, and receipt and review of the completed rebate form, original receipt and UPC bar code for each rebate, if approved, a credit will be applied to the water account that is on the application. Applications will not be processed if they are incomplete or inspections are not completed.

Customers are responsible for calling and setting up an appointment so that the rain barrel can be inspected by the Water Conservation Officer, Monday - Friday, 10 a.m. - 4 p.m.
Contact the
Conservation Office
or call 321-433-8705 for more information or to request a pdf copy of the application form. If you complete an
online form
the Conservation Office will receive your application via email and will contact you to schedule an inspection.
If you complete a paper application mail it, along with the original receipt and UPC bar code to :
Water Conservation Officer - Rain Barrel Rebate Program
Cocoa Utilities Department
351 Shearer Blvd.
Cocoa, FL 32922
Brevard County's Natural Resources Management Department occasionally holds workshops to make your own rain barrel. Check with
Brevard County Natural Resources
for times and availability.
Rainwater stored in a rain barrel has many uses, especially for providing water for landscapes and gardens. For more information regarding the collection of rain water, please visit, the
Rain Barrel Guide website
.